I am not a very active Mac user other than using it during my work hours. Every time I come to work, I usually discover something new about the computer that I haven't already used or figured out before. One thing I recently learned is how to lock my computer screen, so when I leave my computer it requires my login and password to get back on. What happened to make me look into doing this was that I got up from my seat to use the bathroom. When I returned, someone had signed me off of my computer. I knew there was a way to lock my computer screen so when I left, it would require me to sign in again. In this tutorial, I will introduce to you how to do this for those who have Mac logins.
First, on the icon bar, click on your system preferences icon. (If you don't have this icon at the bottom of your screen, in the top right hand corner where there is a magnified glass, type in "system preferences".)
Once opened, you want to click on the icon titled, "Security".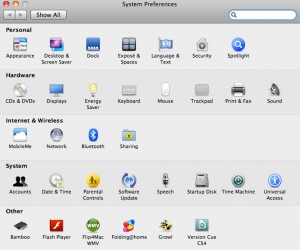 Make sure you're on the "General" tab and check the "Require password __________ after sleep or screen saver begins".  I chose mine to require my password immediately after going into screensaver mode, but there are many other options.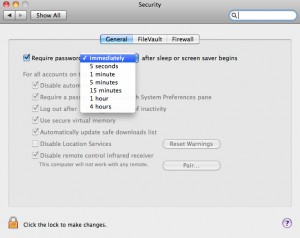 Once you have selected the box of your choice, press the back arrow and select the icon titled, "Desktop and Screen Saver". On this menu, click on the "Screen Saver" tab. On the bottom left corner of this preference box, there is a button called "Hot Corners" which will open a drop down box. Here, you can select which corner will be your screen saver corner. Press okay and close the preferences. You should now have "hot corners".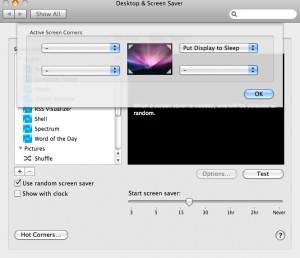 To activate your screen saver, simply put your mouse in the corner your chose and it should go right to your screensaver and then require you to log back in to your computer. Hopefully, this tutorial was useful for anyone that has encountered the same problem that I have of someone logging you out and losing all your work. This will help you protect your computer easier than just signing out and back on.