We received an error code on our HP Color Laserjet 5500 DTN. And this is our story.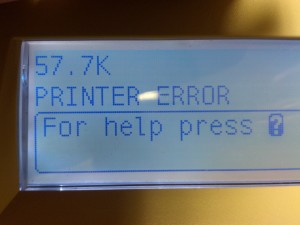 This was the fancy message we received.
According to the HP Service Manual, this message points to 3 possible reasons.
Failed DC controller
Failed Low Voltage Power Supply
Failed Power Supply Fan.
I was certainly hoping for the last option.
So I began disassembly , knowing that the fan in question was on the lower left side of the machine, as you face the unit.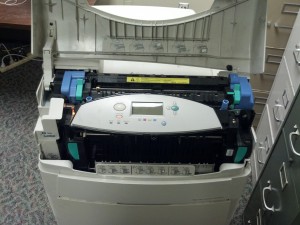 I began by opening and removing the lid surrounding the display. (Front Top cover.)
The lid must be removed completely.
Gently Separate the RH hinge.
Gently Separate the LH hinge.
Pull the right side of the unit towards you, then rotate the lid counterclockwise to undo the tension arm (Piece that keeps the lid from closing on your fingers, located on the left side)
Set aside.
Next Comes the top cover (Paper Catch Tray)
As you can see in the next picture, there are 4 scres on the back face of the unit.
Remove the top two.
Gently remove this cover, releasing the two clips at the front of the tray.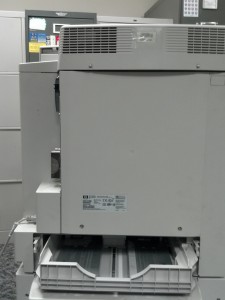 As your facing the unit, the next piece to remove is the Right Side Cover.
There are two screws in the very bottom of the panel, which I have no picture for.
After removing the screws, there are two clips at the top that, once removed, allow the side to hinge off.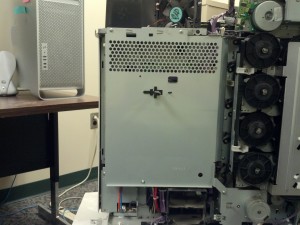 At the bottom of this picture, you can see where the fan was already removed. (The dust should be a massive giveaway) However, to actually remove the fan, you must expose the logic board under the protective shielding in the picture. 10 Silver screws hold the panel in place. WARNING! BE SURE TO REMOVE THE CABLE FROM THE LEFT OF THE SHIELD!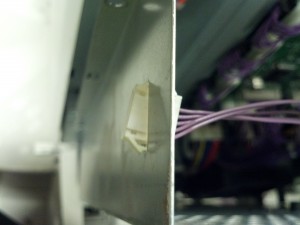 Use a screwdriver to push the retaining clips in on the cable. It makes life easier, I promise.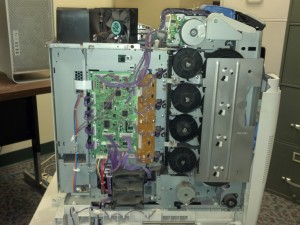 With the metal shield removed. I wonder why so much purple wiring…
The fan connects to the board on the header directly above the Molex-style connector (Br, Blk, Y, Blu, R,R, Blk) Header Number J1133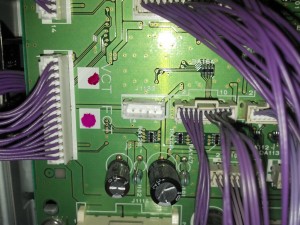 Reassembly is back up the page. Another note, if you order an HP replacement fan might have a longer cable on it, so keep it tucked back in behind the shield.
Good Luck!