activities transcript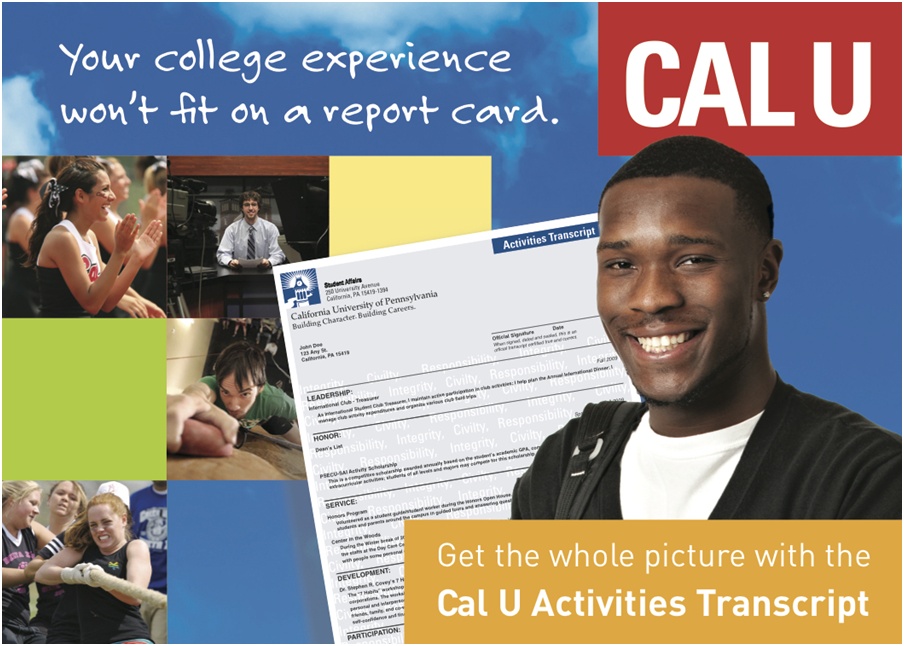 Grades are just one measure of your college success, so California University records your achievements on two official documents: your Academic Transcript and your Activities Transcript. Your Academic Transcript shows your grades and your degree, so future employers know you completed your studies. Your Activities Transcript lists other accomplishments: your community service, leadership, training, student activities and more.
The Activities Transcript highlights your unique interests, strengths, and abilities. It's an official record of how you spend your time outside the classroom.
As a Cal U student, you can always view your Activities Transcript online using OrgSync. Use it during your time as a student to apply for involvement scholarships and to build your resume and begin thinking about your future.
When it's time to start a career, your official Activities Transcript lets employers see the whole picture. It puts your accomplishments in focus, gives you a competitive advantage in the job market and gives a clearer picture of you.
How to Find Your Activities Transcript
The Activities Transcript is a free program that is part of the campus OrgSync software, and can be managed by logging in to the Cal U portal through the OrgSync link in VIP and navigating to the "Involvement" link found in each student's user profile.
Simply log in to OrgSync, click on your profile photo, scroll down to, and click on, the Involvement link. You can then add, remove, or change your entries, and view or request an official copy of your transcript.
If you have questions about your transcript, or require assistance, contact Pam DelVerne at delverne@calu.edu or by phone at 724-938-5973.