The SAI Farm is a unique venue that provides space for student events, conferencing needs, recreational pursuits and academic opportunities.
Academic Opportunities
Through collaboration with various academic departments, the SAI Farm provides many opportunities for hands on learning outside of the traditional classroom setting. Some past events include a mock crime scene hosted by Department of Anthropology and the Annual Pittsburgh Geological Society's Drilling Workshop
Recreational Pursuits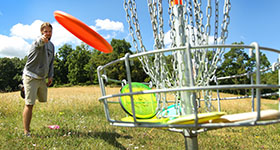 The SAI Farm offers many opportunities for students to engage in recreational pursuits. The expansive 94-acre natural area features hiking trails with many out-of-the-way places of interest to explore, an 18 hole disc golf course and a 1.5 mile running course.
Conferencing & Banquet Needs
The Farmhouse is equipped to accommodate various student and departmental meeting and banquet needs. There are three smart style conference rooms, each equipped with a computer, webcam, television and wifi access. The banquet facility has many seating options and can accommodate as many as 64 users.