Student media services
Student Media Services consists of a variety of media and communication outlets owned by the Student Association Inc. (SAI) and operated by a mix of students and SAI staff.
Mission Statement 
Student Media Services serves the students of California University of PA, the local community, and the global community through various media outlets (Cal Times, CUTV, WCAL, online). Media Services provides educational and leadership opportunities, along with practical, hands-on experience in broadcasting, video production, journalism, photography, multimedia, design and web development, while supporting the goals of the University, the Office of Student Affairs and the Student Association Inc.
Staff:
Pam DelVerne, Director of Media and Technology Services
Jeff Helsel, Director of Multimedia Journalism
Gary Smith, Operations Director, CUTV & Advisor, WCAL
---
California Times Student Newspaper
The Cal Times provides students with professional journalism experience through its print and online digital multimedia editions. Undergraduate and graduate students of all majors are encouraged to participate in the news production experience at our state-of-the-art newsroom facility in the Natali Student Center.
The Cal Times, owned and operated by the Student Association, Inc., strives to provide news and information for and about the California University of Pennsylvania community, contributing to campus life by providing a voice for students while providing a real-world learning environment for student journalists, photographers, designers, multimedia producers, illustrators, advertising sales, public relations and marketing professionals.
Cal Times newspaper print edition
The Cal Times newspaper print edition, published bi-weekly on Friday during the fall and spring semesters, has been a long-standing and award-winning tradition at California University for more than a century with many graduates pursuing professional careers in the field of journalism and other media-related careers. The first issue was published in 1885 and has held various titles such as "The Hammer and Tongs" "The Tower Times" and the "California Times."
Cal Times online
The Cal Times online edition and social media sites updates readers 24/7 with breaking stories and web-only features. From stories to blogs to slide shows to video to social media sites, students get exceptional hands-on multimedia experience working with our online editions.
Student Photography
Working closely with the Cal Times, Cal U students have the opportunity to showcase their photojournalism skills by using professional photography equipment to document happenings around campus and the community. Their photos are displayed in a public Flickr photo gallery, and are used in a variety of campus publications.
Flickr gallery: http://flickr.com/photos/SAIatCalU
For more information on the Cal Times, photography, or CUTV Newscenter, contact Jeff Helsel (helsel_j@calu.edu)  at 724-938-4303.
Website: http://www.caltimes.org
---
CUTV (California University Television)
CUTV is the University's award-winning cable television station, and is owned and operated by the Student Association Inc.. California University TV is seen in nearly 100,000 homes, on Armstrong Channel 61, Atlantic Broadband Channel 17, and online at http://cutv.calu.edu/live/.
The mission of CUTV is to produce and provide programming of regional community interest, while providing valuable "hands-on" educational experience for interested students. This applied learning supports the mission and goals of California University, as well as the priorities and imperatives of the State System of Higher Education.
Students can develop skills in television technology through experience in a variety of technical areas including camera work, editing, direction and other production roles, as well as on-air talent positions. California University television produces a variety of informational, educational, and entertainment programs, including CUTV Newscenter - a live news show. CUTV is heavily involved with University and area high school sports coverage.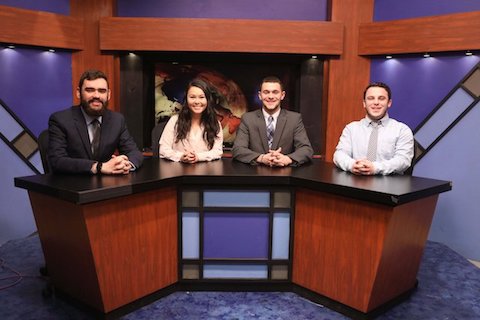 Over the past several years, CUTV has produced all of California University's football and basketball broadcasts, as well as various volleyball, soccer, baseball and softball events. CUTV also produces a weekly coach's show for the sport in season. CUTV also produces a High School Football Game of the Week, with several of these contests carried live to a statewide audience via the Pennsylvania Cable Network (PCN).
CUTV is recognized by many national organizations. The National Association of Collegiate Broadcasters (NACB) awarded CUTV "Best in the Nation" for its news and sports, as well as "Station of the Year." The station has also received over 25 TELLY awards for its sports, news and documentary coverage.
With professional equipment, including a mobile production truck and broadcast studio, students of all majors have the opportunity to participate in the studio or on location. The 25-year-old program, whose offices are located in the Natali Student Center, employs a professional staff and has a student membership of over 50 individuals.
For more information on CUTV, contact Gary Smith (smith_gm@calu.edu) at 724-938-4303. For information on Newscenter, contact Jeff Helsel (helsel_j@calu.edu).
Website: http://cutv.calu.edu
---
WCAL - 91.9FM, Power 92
Also owned and operated by SAI, WCAL is a 24-hour a day, 3300 watt FM station with a coverage radius of 40 miles. WCAL's typical audience is between the ages of 15-45, residing in the five-county region (Washington, Fayette, Greene, Westmoreland and Allegheny), with secondary listeners in parts of Maryland and West Virginia.
WCAL has a mission of providing students with hands-on radio experience, while broadcasting news, sports, public service information and the best in popular music entertainment in a variety of genres to the regional audience.
WCAL has won several national awards, including three Silver Microphone swards and several Communicator Awards of Excellence. Students from any major who successfully complete a training program are able to become on-air DJs.
For more information on WCAL, contact Gary Smith (smith_gm@calu.edu) at 724-938-4303.
Website: http://wcal.calu.edu
Mobile App: You can also listen on your mobile device using the RadioFX app. iOS | Android
---
MACLAB Creative Services
The Multimedia Access Center, or Mac Lab for short, is an open lab where you can exercise your creativity, work on an assignment, attend a workshop, record a short video or simply check your email.
Located on the first floor of the Natali Student Center across from the Student Bookstore, the lab is equipped with Apple iMacs and a Mac Pro, loaded with Adobe's Creative Suite, Apple's iLife & iWork, and Microsoft Office.
Occasionally we offer workshops for students and staff, and our knowledgeable student staff is always available to help. They won't do your homework, but they can give you tips on how to use the software.
The MAC Lab offers free web development services to all allocated clubs and organizations on campus. You can request a website using our project request form.
Our creative team will work with your group to create event posters, t-shirt designs, logos, and more. Schedule an appointment by emailing stu_saiweb@calu.edu or by completing our online project request form. Please allow ample time before your event for the creative process!
Need to digitize video for class? Want to film a short video for YouTube? Stop by and talk with one of our audio/video experts; you can even sign out a video camera or a handheld recorder for your projects. CalCard required for lending.
The Mac Lab employ students under the federal and state work-study Programs and as part-time Student Association Inc. (SAI) employees. Volunteers are accepted at all times, and internships are available. For more information about the Mac Lab, contact Pam DelVerne at delverne@calu.edu or phone 724-938-5973.
Website: http://sai.calu.edu/maclab/  
Project Request Form: https://orgsync.com/60371/forms/94629